Description
🎄Hot sale early 🎅🏻Christmas 50% off - Magnetic Car Windshield Cover
¿Don't want to scrape off snow or ice in the cold winter?
 ¡Car windshield cover is your best choice!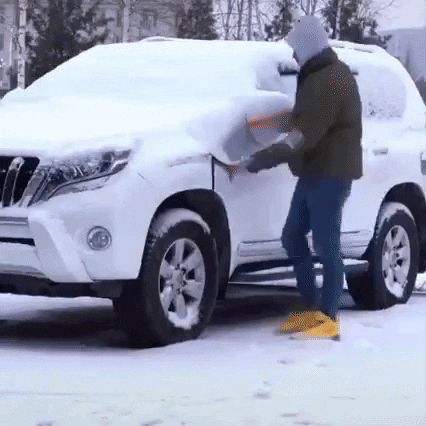 ¡No more windshield scratches, no more freezing hands!
❄【STASBLE WINDSHILED COVER】5 pcs updated magnet holds strongly on the windshield, no scratches arise in any case . side Wings pinched in the doors, theft protection; These designs keep the windshield cover stable on the car, even in strong winds.

❄【WIND AND SNOW PROTECTION】 Aluminum foil and cotton padding can effectively prevent heat and water and wind and snow, help you prevent snow in front of the window,eliminating the need to defrost your window every morning.

❄【EASY TO CARRY】 The Windshield Cover is soft and foldable, easy to install and easy to use. When you don't need to use it, it can be easily folded and placed in the corner of the car.


❄【UPGRADED MATERIAL】car windshield cover have four layers which contains aluminum foil, needle punched cotton, silk cotton and non-woven material, which is resistant to high temperatures and tears, and can be better anti-snow and anti-freeze.
FEATURES
NO MORE SCRAPING: The Weather Shield Car Windshield Cover keeps snow, ice, and frost off your windshield to save you valuable time and energy on those cold mornings. Simply remove the car windshield cover, shake off the ice, and drive away in no time.
USE ALL YEAR ROUND: Don't limit the anti-frost windshield cover to winter only. Use it in the spring to keep out pollen and bugs, in the fall to keep leaves at bay, and in the summer as a truly effective windshield cover from the sun and dangerous UV radiation.
STAY IN PLACE: Secure with side flaps design, prevent falling off. And when are you coming back? Simply remove the cover and any snow, frost, ice, or leaves.
EASY TO STORE :  You'll never have to deal with bulky car windshield covers that take up precious space in your vehicle. With a storage bag, this all-weather cover folds down to a fraction of its size and can be stored effortlessly in the trunk or glove box.
FITS MOST CARS:  Whether you're looking for the perfect sedan, van, or SUV truck windshield cover
SPECS
Item Weight: 160g/190g
Size: S-215*125cm/L-245*145cm
Colour: Silver/Black