Description
Bone Conduction Speaker Bluetooth TWS Stereo Dual Sound Channels Mini Audio Box HumbirdSpeaker with HD Call FM Radio
HumBird Speaker is the world's smallest and most versatile bone conduction speaker.
HumBird Speaker allows you to listen to music, follow podcasts, have individual phone conversations or conference calls, and even enjoy an amazing experience of the sound of your games, videos or films played on your device. Transforms anything hollow Into a speaker, at any time.
Place It on top of different surfaces such as a guitar, a kraft box, a plastic storage box, photo frames, sports helmet or even dashboards can provide you varying of sound effects.
It works like a humBird, small but powerful. It delivers a high sound volume, being 4 to 5 times louder than the average cell phone speakers' volume, reaching up to 115db, and it allows you to personalize the tone quality.
Portability: This product is small in size and light in weight, which is very convenient to carry around.


Beautiful: This product is made with functional exquisite craftsmanship, and appearance is very stylish and beautiful.
Excellent Combination Experience: The bone conduction speakers are connected by bluetooth. Two humbird speakers bluetooth can be paird automatically, which will give True wireless stereo. We highly recommend you to use two interconnected speakers, you can have 2.0 surround sound experience since this innovative Bluetooth enabled device is also TWS enabled.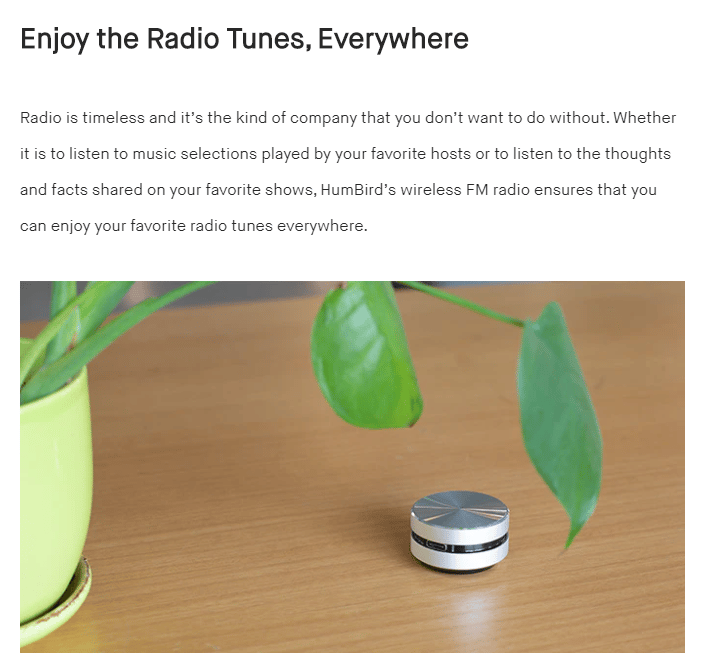 ps: When the Apple phone is connected to the speaker, after connecting to the phone, click the "Audio" button to select "Hummingbird Speaker", and you can use it to talk.
Main control chip: Bluetooth 5.0 supports TWS real stereo, FM radio
Function chip: 20HZ~20KZ full range output
Channel: two channels, 2 independent bone conduction transducers
Output power: 3W audio output
Audio decoding: support MP3/ AC3/AAC/WAV, etc.
Bone conduction transducer: built-in reinforced magnetic core and high-performance coil
Microphone: omnidirectional microphone, can talk
FM radio: built-in FM enhancement IC, conventional indoor reception to more than 10
Charging interface: TYPE C interface, 5V0.4A charging current
Built-in battery: lithium polymer battery, capacity 400mAh, 3.7-4.2V welding wire
Standby time: not less than 240 hours