Description
Make your garden stand out & create an appealing visual sensation with Magical Metal Windmill Spinner. It comes with a magnificent beauty while also bringing in a pleasant breeze.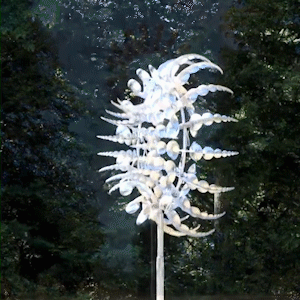 ✔️ Wind Energy
✔️ Weather-Resistant
✔️ Install within Minutes
✔️ Head-Turner Decoration
✔️ Spectacular Gift Idea
✔️ Rust-Free Material
✔️ Durable Construction
Tired of looking at your dull yard? Boost the look of your garden with a Magical Metal Windmill Spinner.
It is a decoration that uses wind energy but still keeps your garden, yard, or other outside spaces look natural and decorated which can wow your guests and your family when they visit your place.
It has a robust construction that offers sufficient stability without any complicated wirings. A piece of technological brilliance with outstanding welding that you can enjoy in your home.
FEATURE(S):
ASSEMBLE WITHOUT HASSLE – It's so simple to put together that you won't need any additional wiring; simply place it in your garden and watch it spin in the wind. You can stake this wind spinner into the soil or grass easily without using any tool.
METALLIC RAINBOW COLORS – Using a metallic coating and a glass ball, each blade is designed to refract and reflect light in a unique way. With the power of the sunlight, this will result in an almost heavenly rainbow of colors visible all around the windmill.
OUTSTANDING QUALITY – Built with strong iron metal components and a long-lasting combination finish of paint and foil, this Magical Metal Windmill Spinner provides a visual sensation in the garden. It can withstand extreme weather conditions with its rust-proof and weather-resistant materials.
STURDY & ROTATES EASILY – Magical Metal Windmill Spinner has a solid metal construction and dual wind motion. It comes with sealed bearings that allow the two layers of blades to smoothly and quietly rotate in the opposite direction. These sturdy yard wind spinners include a stability stake at the bottom to keep them firmly planted in the ground on windy days. They combine modern practicality with elegance.
STUNNING GARDEN DECORATION – When there is a breeze, this Magical Metal Windmill Spinner catches the wind and quietly spins even in the slightest breeze with its 18 balanced wings rotating around a circular axle, attracting the attention and admiration of neighbors while bringing color and beauty to your garden, patio, or lawn.
SPECIFICATION(S):
Materials: Stainless Steel
Pole Size: 76cm / 30"
Spinner Size: 99 x 31.5cm / 39" x 12.4"
PACKAGE INCLUDE(S):