Description
🦕Every Child is A Dinosaur Fan!!!🦖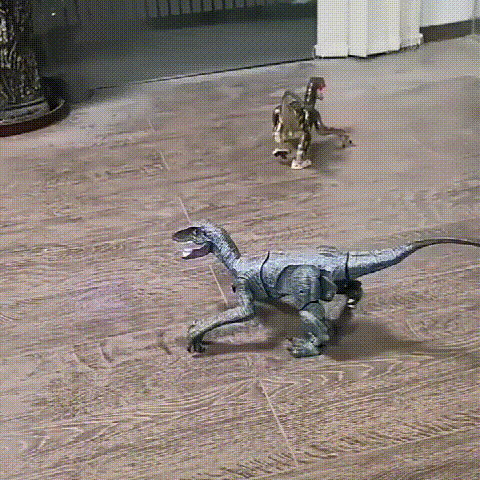 🦕Remote-controlled dinosaur brought the real Jurassic dinosaur Velociraptor to life with walking movements. this remote-controlled dinosaur has

 3D eyes

 

that mimic the real eyes of a dinosaur, as well as

 

walking

,

 

growling

,

 

swinging its body

 

and

 

tail from side to side

, and imitating a real dinosaur.🦖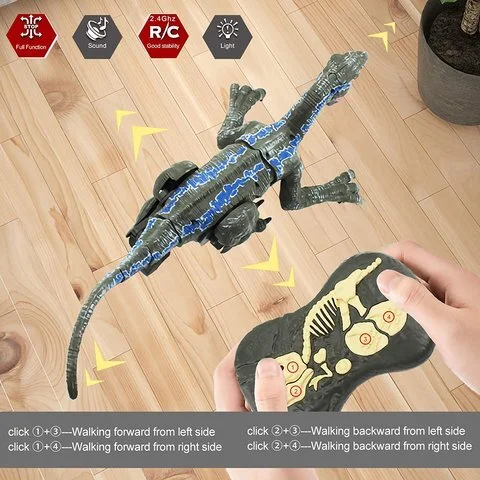 Features 
🦖【Super Value Realistic Walking RC Dinosaur Toy for Kids】This realistic dinosaur toy is able to walk flexibly indoor and outdoor, use the remote controller to make it action, there will be simulated sound out of it, which makes you feel you're at Jurassic Journey! More dinosaur models have been added to the children's dinosaur world, including a brachiosaurus, a spinosaurus, a stegosaurus, two trees and two rocks.

🦖【Multi-function Dinosaur for Boys】The Dinosaur toys aim to promote interaction and communication among children. Because of their excitement and imagination, they inevitably share their thoughts with their playmates. This RC Dinosaur toy is great for developing the multi-skills along with the enhancement of child's imagination, creativity, and role-playing skills. The body and tail can be flexibly swung, and the functions of forward, backward, left and right can be realized by remote control.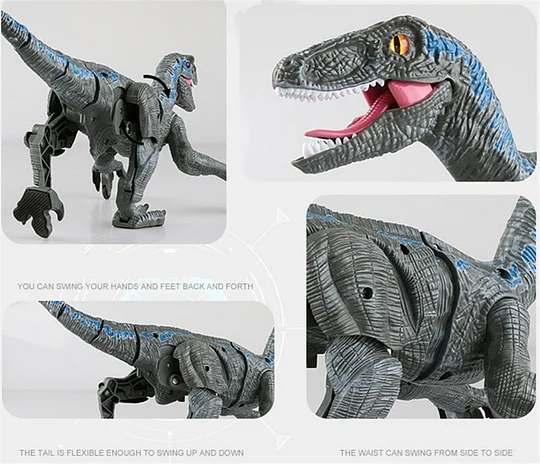 🦖【Safe and Durable】Super long playback time-equipped with rechargeable 3.7V 1200 mAh battery, 2-3 hours charging time can last up to 60 minutes uninterrupted operation. With USB charging cable. Remote controller requires 2×1.5V 'AA' (not included). Allowing your kids to experience a longer and uninterrupted gaming time. The one-click demo function allows younger children to experience the infinite fun of Top version Velociraptor dinosaurs.This dinosaur toy is perfect for autistic children.


🦖【Ideal Gift for Kids】Every child is a dinosaur fan, he really wanted a dinosaur toy. This large remote-controlled dinosaur toy can stimulate children's imagination. An educational dinosaur toy can help kids learn dinosaur knowledge and prehistoric culture. Dinosaur toys are the suitable gift for 3 4 5 6 7 8+ year old kids, surprise on children's birthday, Halloween, Christmas. Dinosaur toy is a surprise for the kids age 3-5.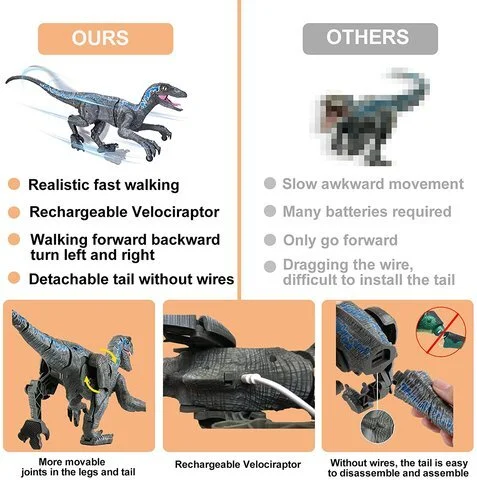 SUPER VALUE for LED Light Up Blue Raptor Jurassic World Realistic Dinosaur Toys. RC T-Rex Dinosaurs and Realistic Shape Dinosaurs. Enjoy a Jurassic Journey with Movement, Light and Sound.
Perfect for Christmas Stocking Stuffers, Party Favors, Birthday Party Games, Educational Purposes, Party decoration, Handouts or Rewards. Ideal Party Favor or Gift for a Dinosaur Themed Birthday Party.
Feathering Stunning LED Light, Remote Control Walking and Roar Sound. LED lights in Red and Blue Illuminate the Clear Spikes Down the Back and Flash the Eyes & Tongue.
Specifications
Size:18 * 16 * 13.5cm/ 13.58 * 6.30 * 5.31in

Material: Plastic

Color: Grey, Brown